Emma Trounson
Director of Mission through Music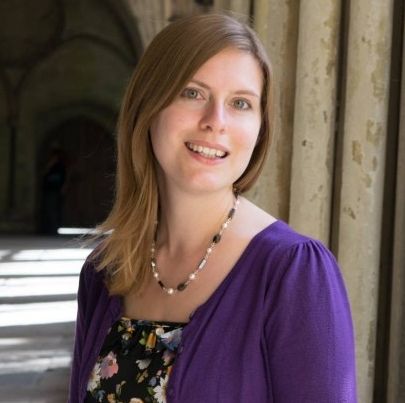 Emma Trounson is Director of Mission through Music at All Saints. She is responsible for overseeing all musical activity at the church, including directing the Adult Choir, Children's Choir and All Age Music Group. She leads choral outreach projects in the community, for example with school children, care home residents, and local women for a singing project celebrating International Women's Day. Emma also set up a singing group for homeless and socially isolated adults called SoundBites at the Falcon drop-in Centre.
Emma studied BA Music and French with a major in performance at Bristol University and MA Choral Conducting at the Royal Welsh College of Music and Drama. She is Musical Director of Fosse Singers, Semper Singers, Corah and the SoundCafé choir for homeless and vulnerably housed adults in Leicester. She conducted Fosse Singers on the pitch of the King Power Stadium as they sang the National Anthems for 3 matches of the 2015 Rugby World Cup which was broadcast live on ITV.
Emma performed the soprano solo in Schubert Mass in G live on BBC 1 for the Easter Day broadcast from Leicester Cathedral where she previously worked as a Choral Director. She had a solo part on Radio 4's Sunday Worship programme to commemorate 50 years since the moon landing and sang in the choir for the Richard III Reinterment services broadcast live on Channel 4. She enjoys performing solo recitals in a range of languages and styles including Art Song, Opera arias, Musical Theatre and Jazz and is a regular artist for BabyGigs which puts on concerts for young children. For more information about Emma's life as a musician, please visit: www.emmatrounson.com.
Emma grew up in Kirby Muxloe and now lives in Anstey, with her husband Mark and their little boy Henry. Mark is a jazz Double Bass player and they enjoy the occasional collaboration! They are rugby union fans and have season tickets for Leicester Tigers, watching the games with Emma's parents and brother. Emma and Mark used to learn Latin dancing and would love to get back to it one day when they have time. Emma enjoys taking Henry to his weekly Music, French, Signing and Swimming classes.